Davenport Hotel
Spokane, WA
Tyler Wilson | Laundry Technician
The historic Davenport Hotel in downtown Spokane, regarded by many as Washington State's grandest hotel, is a bustling center of activity that's in constant motion 7 days a week. And just below the surface of all the activity is a dedicated group of individuals managing the immense amount of housekeeping tasks that a full scale, luxury hotel creates.
Leading the way with fist bumps and high five's, is Tyler Wilson, a laundry technician that's been employed by the Davenport Hotel for the last 8 years. Tyler makes trip after trip to the laundry shoot (the only one for the entire hotel) which is continually bombarded with towels, robes and linens coming from any of the 284 rooms above. Once the laundry is retrieved, Tyler sorts it for laundering in a series of large industrial machines. Clean laundry is then gathered, folded, separated and readied for the next room service run in a continuous daily cycle.
A popular employee amongst the staff, Tyler is always the one making new friends and engaging in conversation with co-workers.
"When Tyler has a free minute to talk, you better be ready to talk sports," said Mike Glenn, an employment consultant with Ability Employment Services, who always looks forward to his meetings with Tyler.
"I'm a Broncos fan, but some of my coworkers are Packers fans, so you got to watch out for them," Tyler says with a chuckle.
While Tyler has become proficient at his job, laundry isn't the only thing he has his sights set on. "I've had lots of experience folding in last 8 years, so I'm pretty good at it. My boss is the best and everyone down here treats me really well but I hope someday to work my way up to the kitchen," he adds.
When asked about his favorite part of the job, Tyler says without hesitation, "There's so much I love about working here but I have to say I love the food." Tyler, along with the rest of the hotel staff enjoy eating what's left of the hotel's daily brunch buffets, as a perk of their employment at the Davenport.
Miriam Hinatsu, the hotel's Director of Housekeeping has been supervising Tyler for the entire length of his employment. In that time, she's been able to make some accommodations in the work environment that have helped Tyler to work safely and efficiently.
"Tyler does a great job here but just like any other employee he may need occasional guidance on where his efforts and focus are needed or accommodations to help him work safely," she said. "Once he gets the direction he needs, he gets the job done, and always does it with a smile on his face."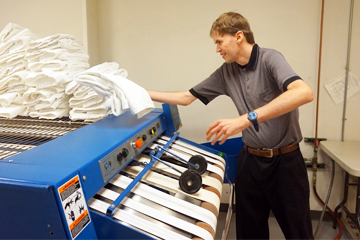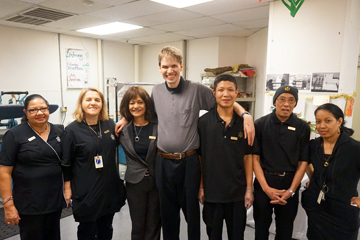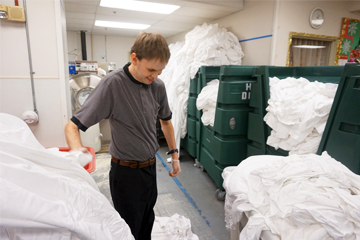 No Results Found
The page you requested could not be found. Try refining your search, or use the navigation above to locate the post.
Sign Up For Our Newsletter
Get business tips, news stories, and strategies for workforce diversification!