Wonderland Family Fun Center
Spokane, WA
Larry Hill | Mini-Golf / Laser-Tag / Go-Kart Specialist
When Larry Hill showed up for his first day on the job at Wonderland Family Fun Center, he wasn't quite prepared for what he was about to see. A long line of kids stretched out into the parking lot, bursting with anticipation of the fun they were about to have.
"It was a little intimidating at first but I got into the flow of things after a couple of weeks and picked it up. Now I just love seeing everyone have so much fun and their excitement when they learn to drive a go-kart or play laser tag for the first time," says Larry.
Larry's job is all about fun.Wonderland is a giant fun center for kids of all ages that has everything from arcade games to go-karts to miniature golf. Larry supervises many of the different areas of Wonderland, making sure everyone stays safe and follows the rules. From time to time, Larry also helps with mechanical issues.
"It feels so good to be able to come to work every day and being around great co-workers makes it all the better," adds Larry.
Having a job has meant so much to Larry, particularly because working at Wonderland is helping Larry move towards the independence he has always wanted.
"I'm working really hard to get my own apartment. This job has allowed me to save some money and I'm getting really close to achieving that goal."
Working in a place that's all about fun does come with a few perks and Larry has been sure to take full advantage of those perks.
"During my breaks I always like to take a spin in the golf karts or take a few swings in the batting cage. If I win any tickets though, I always give those away to the kids," he said.
Anthony Hattrup has been supervising Larry since he started working at Wonderland, 9 months ago. Anthony has been really pleased with Larry's performance, and he's especially pleased with how Larry has adjusted to the large groups of kids.
"It's been great having Larry here. He's excelling in all the areas we have placed him in and he's always willing to do some of the less popular jobs that others don't always enjoy doing," said Anthony.
"Sometimes it's a little stressful when you're opening the doors and these huge groups of excited kids are pouring in, but I always know that Larry is going to come in with a positive attitude. When he gets here, he usually announces 'I'm ready for the day' – with a big smile on his face. I guess you can't really ask for anything more than that from a Wonderland employee."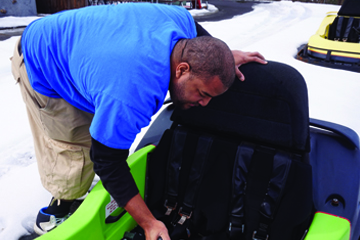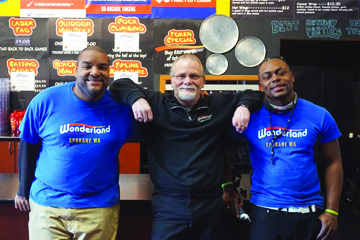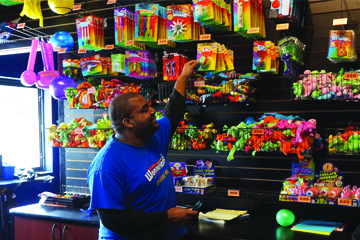 No Results Found
The page you requested could not be found. Try refining your search, or use the navigation above to locate the post.
Sign Up For Our Newsletter
Get business tips, news stories, and strategies for workforce diversification!