South Hill Village
Spokane, WA
Matt Black, a supervisor for the South Hill Village kitchen staff has been working with Kyle since he first started washing dishes, 3 years ago. During that time, he has watched Kyle grow into a great cook.
"Kyle is superb… awesome. He has really developed into our go-to guy.  We know it will get done if we hand a task off to him. His focus is great, and he meshes well with our team back here, said Matt.
3 years ago, Kyle Kubik was looking for a change of pace.  He'd been working for years in landscaping, but was seeking a new career direction that would challenge him in a different way.
Kyle took a job as a dishwasher, for the South Hill Village, a retirement community in South Spokane. Kyle enjoyed the change of pace but was intrigued by what he saw the cooks doing.
"When I wasn't washing dishes, I always shadowed the cooks and helped with dinner prep for the evening meals," said Kyle.
Kyle had to learn the many recipes used, the considerations needed for those with dietary restrictions, as well as food size restrictions that are all part of dinner prep. In a little less than a year, Kyle was finally ready to be promoted to a full time cook, working in all aspects of food preparation for the care center, which feeds up to 150 people daily.
"I love preparing any food and especially love using the grill to prepare meats," he said. "Learning all the different spices and recipes was tough but I eventually got the hang of it and now I really enjoy building meals from scratch," he added.
While Kyle and the rest of the cooks follow a daily menu built by the Head Chef, he does exercise some of his own personal touches when he cooks on the cold-side of the grill (burgers/ sandwiches).
"We have a great team here with great bosses, and I'm just happy to be a part of it," said Kyle.  "I think I'll be here for a while."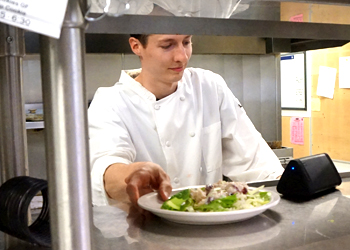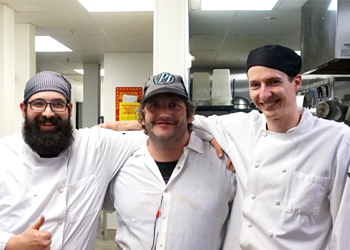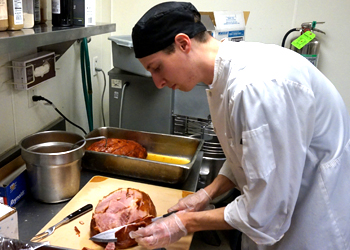 No Results Found
The page you requested could not be found. Try refining your search, or use the navigation above to locate the post.
Sign Up For Our Newsletter
Get business tips, news stories, and strategies for workforce diversification!