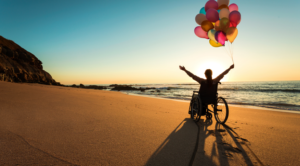 July is Disability Pride Month! It has been celebrated since 1990, but has gained more attention in recent years. If you're unsure what this month is all about and why it was created, let us share a bit more about what Disability Pride Month means to us at HireAbility Spokane. 
When did Disability Pride Month start?
As we mentioned, Disability Pride Month started in 1990, but do you know what else happened that year? The historic Americans with Disabilities Act (ADA) was passed in July. That's really what helped kick off the major celebrations of Disability Pride Month throughout the country. 
The month is a time to celebrate the progress made by the ADA, but also for those with a disability to come together to fight against the ever-present ableism and stigmatization around disability. 
In fact, a 2018 study in Rehabilitation Psychology found that celebrating disability pride helped improve the self-esteem of those with a disability. It helps people feel not so isolated in their struggle and to find a common community that they can participate in. 
The Meaning of Disability Pride
The fight for disability representation and equal rights didn't begin with Disability Pride Month as a formal event, but now it has been used as a time to bring attention to this identity. 
If you're wondering what Disability Pride Month is all about, we really love the framework that Sins Invalid provides:
All bodies are unique and essential.

All bodies have strengths and needs that must be met. 

We are powerful, not despite the complexities of our bodies, but because of them.

All bodies are confined by ability, race, gender, sexuality, class, nation state, religion, and more, and we cannot separate them. 
This is a great code to live by. We also appreciate the 10 Principles of Disability Justice that Sin Invalid has put together. We won't list all of those here, but we encourage you to look into this more if you're curious about what work still needs to be done for the community of people with disabilities. 
Disability Pride Flag
If you didn't already know, there's also a Disability Pride Flag. Our friends over at The Arc of Spokane did a great job sharing the meaning behind the different elements of the flag. We recommend you check out their Facebook post for the full explanation. 
If you're hoping to honor Disability Pride Month by diversifying your team, we'd love to connect with you. Reach out to us today to get started.